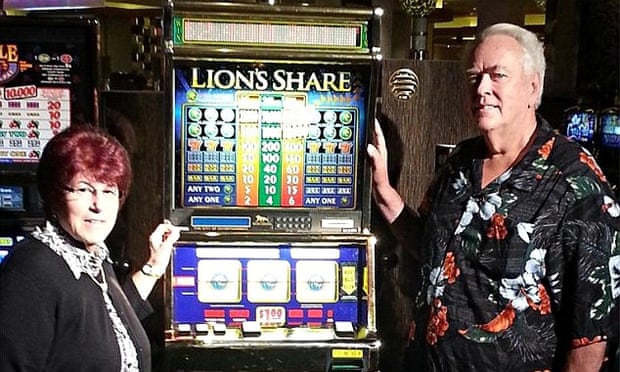 $2.4 Million Dollars was won by an American couple at the MGM Grand Casino, Linda and Walter Misco who are from New Hampshire have been playing the Lion's Share machine for about five minutes as they both watched as the three green emblems line up horizontally on that jackpot pay line last Friday Night.
The Casino stated that they have been waiting over 20 years for this big payout that their very famous Lion's Share Machine finally hit for the 2.4 million dollar jackpot.
This all too famous machine has been attracting queues of players for the past two decades due to it very appealing jackpot, which has accumulated over 2 decades of parsimony.  With over 1900 slot machines at the MGM Grand Casino, the Lion's Share was by far the most popular slot on the floor, as it was played at least once every five seconds each day.
This game has been known to be played at least five times more than any other average slot game that is on the Casinos floor.  The staff at the MGM Grand Casino gets asked several times on a daily basis where the Lion's Share Machine is placed, from patrons that have never played the slot game before.
This machine has become so famous that it is the proud owner of it's very own twitter account, @mgmlionsshare, and it popularity was enhanced by an article that was written in the Wall Street Journal that highlighted its formidable bounty earlier this year.
According to a law in Nevada, a slot machine must pay out 75% of the proceeds that goes in them.  Now that this machine has given its greatest payout, the $1.00 a spin game, the only slot machine that is left on the floors that was installed back in the 1990's will be put into retirement.
The MGM Grand Casino is now considering letting the lucky winners of the jackpot keep the Lion's Share Slot Machine.