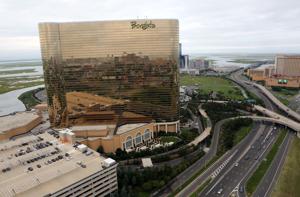 A legal battle that is in regard to the requirements that all cocktail servers at the Borgata Casino Hotel and Spa meet a very strict weight guidelines as well as other personal appearance standards has ultimately ended in the Borgata casino's favor.  As the State Supreme Court declined to review a case that was brought up by 21 of the current as well as former Babes.
In September of last year a state appeals court rejected the claims that the standards violate the anti-discrimination laws.
"The Borgata Babe position within the Casino-Hotel is comprised more than just a job that serves drinks as well as glass washing," the appeals court decided.  "From its inception, a component of presentation as well as a public appearance component is also a part of the described Borgata Babe Position."
The current as well as the former Babes wanted the case to be reviewed by the state Supreme Court, Which on Thursday denied their request.
Borgata's policy for their Babes as well as their male counterparts requires them to be physically fit as well as having a clean smile.  The Females are required to have an hourglass shape and the males must have broad shoulders as well as a slim waist.
The Borgatas Casino Hotel and Spa has fired two of their Borgata Babes over the past years for in fact violating this strict policy, which prohibits their servers from gaining or even losing more than seven percent of their body weight.
The Borgata Casino Hotel and Spa attorneys state that they are very pleased with the decision of the State Supreme Court.